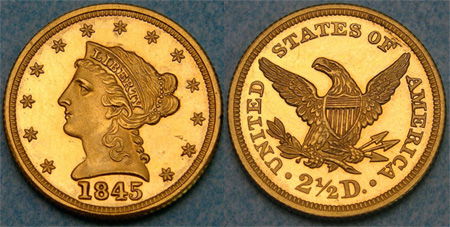 The Philadelphia Mint struck Proof Liberty Quarter Eagles (Buy on eBay) for each year of the series, including two years during which circulation strikes were not produced. There are a total of 65 different proof issues, with those minted before 1859 extremely difficult to obtain.
From 1840 to 1858, proof quarter eagles were struck in limited numbers, ranging from an estimated 5 to 20 pieces. All of these issues are extremely rare, with no more than a handful of examples confirmed to exist for most dates. For certain years, not a single proof specimen is known to exist.
In 1859, mintages for proof quarter eagles were recorded for the first time and production levels slowly increased. Throughout the 1860's and 1870's, proof coin production for the denomination typically ranged from 20 to 50 pieces. Mintages rose to their highest levels from the 1890's through the conclusion of the series, reaching a high of 223 pieces in 1901. Although this was a large increase from earlier mintages, it should not be forgotten that all proof gold coins of this period are rare and considered trophy coins by most collectors.
The two proof only issues of the run are the 1841 Proof Liberty Quarter Eagle and 1863 Proof Liberty Quarter Eagle.
The table below indicates the mintage figures for Proof Liberty Quarter Eagles. Exact mintage figures were not recorded for the proof coinage struck from 1840 to 1858.
Proof Liberty Quarter Eagle Mintages
| | |
| --- | --- |
| 1859 | 80 |
| 1860 | 112 |
| 1861 | 90 |
| 1862 | 35 |
| 1863 | 30 |
| 1864 | 50 |
| 1865 | 25 |
| 1866 | 30 |
| 1867 | 50 |
| 1868 | 25 |
| 1869 | 25 |
| 1870 | 35 |
| 1871 | 30 |
| 1872 | 30 |
| 1873 | 25 |
| 1874 | 20 |
| 1875 | 20 |
| 1876 | 45 |
| 1877 | 120 |
| 1878 | 20 |
| 1879 | 30 |
| 1880 | 36 |
| 1881 | 51 |
| 1882 | 67 |
| 1883 | 82 |
| 1884 | 73 |
| 1885 | 87 |
| 1886 | 88 |
| 1887 | 122 |
| 1888 | 97 |
| 1889 | 48 |
| 1890 | 93 |
| 1891 | 80 |
| 1892 | 105 |
| 1893 | 106 |
| 1894 | 122 |
| 1895 | 119 |
| 1896 | 132 |
| 1897 | 136 |
| 1898 | 165 |
| 1899 | 150 |
| 1900 | 205 |
| 1901 | 223 |
| 1902 | 193 |
| 1903 | 197 |
| 1904 | 170 |
| 1905 | 144 |
| 1906 | 160 |
| 1907 | 154 |