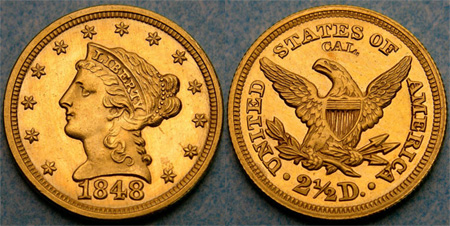 Many refer to the 1848 "CAL" Liberty Quarter Eagle (Buy on eBay) as the first commemorative coin produced by the United States Mint. The issue is directly linked to the California gold rush and has an important place in both history and numismatics. The low mintage and survival rate also make it one of the scarcest issues of the series.
On December 9, 1848, the governor of California Colonel R.B. Mason sent 230 ounces of gold to Secretary of War William L. Marcy. This bullion was subsequently sent to the Philadelphia Mint where it was used to strike medals for Zachary Taylor and Winfield Scott. The remaining bullion was used to strike 1,389 quarter eagles with the abbreviation "CAL." stamped above the head of the eagle on the reverse. The letters were manually punched into the coin following its minting, although it is believed the coin was still in the press when the letters were punched into the field.
It is estimated that around 150 examples of the 1848 "CAL" Quarter Eagle still exist. The coins were originally available at face value for anyone who requested them, however it seems that few numismatists were aware of the offering. As such, many pieces entered circulation and were later melted or otherwise lost to history.
The finest known 1848 CAL Liberty Quarter Eagle is a piece graded NGC MS-68 with the star designation. Due to the incredible state of preservation and the proof-like fields, it is speculated that this piece possibly resided in the personal cabinet of Chief Engraver James B. Longacre. The coin most sold for $300,000 at an auction held in 2020.
Coin Specifications
Designer: Christian Gobrecht
Composition: 90% Gold, 10% Copper
Weight: 4.18 grams
Diameter: 18 mm
Edge: Reeded