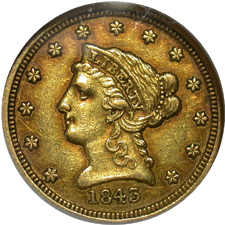 During the course of the Liberty Head Quarter Eagle series, there were a total of 136 different circulation strikes produced at six different mints, excluding varieties. Mintages varied widely, creating some rarities and leaving other issues relatively common.
The lowest circulation strike mintage occurs for the 1854-S Quarter Eagle, which had only 246 pieces produced. Other issues with mintages below 1,000 coins include the 1856-D (874), 1875 (400), 1881 (640) and 1885 (800). Many other issues had low mintages, circulated extensively, or both, and are considered to be prime rarities as well. These include many struck at the Charlotte and Dahlonega from 1840 to 1861, and the Philadelphia issues of the 1860s and 1870s.
Mintages at the Philadelphia Mint increased steadily in the 1880s, although the highest mintage had already been archived in 1851, when a total of 1,372,748 quarter eagles were produced. Only two other dates would have a mintage above one million coins, being 1852 (1,159,681) and 1861 (1,283,788).
The table below includes the mintage figures for circulation strike issues of the Liberty Quarter Eagle series.
| Issue | Mintage |
| --- | --- |
| 1840 | 18,859 |
| 1840-C | 12,822 |
| 1840-D | 3,532 |
| 1840-O | 33,580 |
| 1841 | Proof Only |
| 1841-C | 10,281 |
| 1841-D | 4,164 |
| 1842 | 2,823 |
| 1842-C | 6,729 |
| 1842-D | 4,643 |
| 1842-O | 19,800 |
| 1843 | 100,546 |
| 1843-C | 26,064 |
| 1843-D | 36,209 |
| 1843-O | 364,002 |
| 1844 | 6,784 |
| 1844-C | 11,622 |
| 1844-D | 17,332 |
| 1845 | 91,051 |
| 1845-D | 19,460 |
| 1845-O | 4,000 |
| 1846 | 21,598 |
| 1846-C | 4,808 |
| 1846-D | 19,303 |
| 1846-O | 62,000 |
| 1847 | 29,814 |
| 1847-C | 23,226 |
| 1847-D | 15,784 |
| 1847-O | 124,000 |
| 1848 | 7,497 |
| 1848 CAL | 1,389 |
| 1848-C | 16,788 |
| 1848-D | 13,771 |
| 1849 | 23,294 |
| 1849-C | 10,220 |
| 1849-D | 10,945 |
| 1850 | 252,923 |
| 1850-C | 9,148 |
| 1850-D | 12,148 |
| 1850-O | 84,000 |
| 1851 | 1,372,748 |
| 1851-C | 14,923 |
| 1851-D | 11,264 |
| 1851-O | 148,000 |
| 1852 | 1,159,681 |
| 1852-C | 9,772 |
| 1852-D | 24,078 |
| 1852-O | 140,000 |
| 1853 | 1,404,668 |
| 1853-D | 3,178 |
| 1854 | 596,258 |
| 1854-C | 7,295 |
| 1854-D | 1,760 |
| 1854-O | 153,000 |
| 1854-S | 246 |
| 1855 | 235,480 |
| 1855-C | 3,677 |
| 1855-D | 1,123 |
| 1856 | 384,240 |
| 1856-C | 7,913 |
| 1856-D | 874 |
| 1856-O | 21,100 |
| 1856-S | 72,120 |
| 1857 | 214,130 |
| 1857-D | 2,364 |
| 1857-O | 34,000 |
| 1857-S | 69,200 |
| 1858 | 47,377 |
| 1858-C | 9,056 |
| 1859 | 39,364 |
| 1859-D | 2,244 |
| 1859-S | 15,200 |
| 1860 | 22,563 |
| 1860-C | 7,469 |
| 1860-S | 35,600 |
| 1861 | 1,283,788 |
| 1861-S | 24,000 |
| 1862 | 98,508 |
| 1862-S | 8,000 |
| 1863 | Proof Only |
| 1863-S | 10,800 |
| 1864 | 2,824 |
| 1865 | 1,520 |
| 1865-S | 23,376 |
| 1866 | 3,080 |
| 1866-S | 38,960 |
| 1867 | 3,200 |
| 1867-S | 28,000 |
| 1868 | 3,600 |
| 1868-S | 34,000 |
| 1869 | 4,320 |
| 1869-S | 29,500 |
| 1870 | 4,520 |
| 1870-S | 16,000 |
| 1871 | 5,320 |
| 1871-S | 22,000 |
| 1872 | 3,000 |
| 1872-S | 18,000 |
| 1873 | 178,000 |
| 1873-S | 27,000 |
| 1874 | 3,920 |
| 1875 | 400 |
| 1875-S | 11,600 |
| 1876 | 4,176 |
| 1876-S | 5,000 |
| 1877 | 1,632 |
| 1877-S | 35,400 |
| 1878 | 286,240 |
| 1878-S | 178,000 |
| 1879 | 88,960 |
| 1879-S | 43,500 |
| 1880 | 2,960 |
| 1881 | 640 |
| 1882 | 4,000 |
| 1883 | 1,920 |
| 1884 | 1,950 |
| 1885 | 800 |
| 1886 | 4,000 |
| 1887 | 6,160 |
| 1888 | 16,001 |
| 1889 | 17,600 |
| 1890 | 8,720 |
| 1891 | 10,960 |
| 1892 | 2,440 |
| 1893 | 30,000 |
| 1894 | 4,000 |
| 1895 | 6,000 |
| 1896 | 19,070 |
| 1897 | 29,768 |
| 1898 | 24,000 |
| 1899 | 27,200 |
| 1900 | 67,000 |
| 1901 | 91,100 |
| 1902 | 133,540 |
| 1903 | 201,060 |
| 1904 | 160,790 |
| 1905 | 217,800 |
| 1906 | 176,330 |
| 1907 | 336,294 |