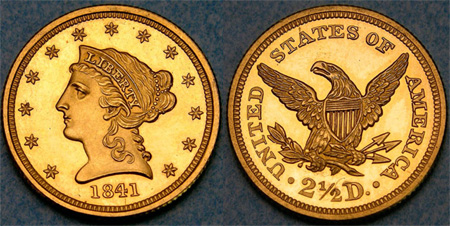 Nicknamed the "Little Princess," the 1841 Liberty Quarter Eagle (Buy on eBay) is a rare and famous coin with an uncertain history. There is no official record of the issue having been struck for circulation at the Philadelphia Mint, and historically it has been considered a proof-only issue. In recent years, some examples have been designated as circulation strikes.
The original mintage for the issue was unrecorded, although it has been estimated that 20 to 25 examples were struck in proof format. This was a relatively high number of proofs for the era, leading to speculation as to the purpose of the issue. Some have suggested that the coins were originally struck for inclusion in presentation sets. It is also possible that some early numismatists understood the rarity of the issue, leading to the eventual production of restrikes.
Circulated examples of the 1841 Quarter Eagle are known in grades ranging from Good-4 through About Uncirculated. While these have typically been considered circulated proofs, some researchers disagree and believe that both proof and circulation strikes were originally produced. Regardless of the true origins of the issue, an estimated 14 to 18 examples are known to exist.
The most heavily circulated example graded PCGS PR-04 sold for $52,800. The finest known example is held within the Smithsonian Institution's National Numismatic Collection.
Coin Specifications
Designer: Christian Gobrecht
Composition: 90% Gold, 10% Copper
Weight: 4.18 grams
Diameter: 18 mm
Edge: Reeded