Guide to U.S. Liberty Quarter Eagles
The Liberty Quarter Eagle was introduced in 1840 and struck until 1907, making it the longest running series for the $2.50 gold denomination. Coins were produced for each date within the range, although two dates are known in proof format only. The large number of circulation strikes spans five different mint facilities and includes issues that range from widely available to extremely rare. The series also includes an issue which could be considered the first commemorative coin of the United States of America.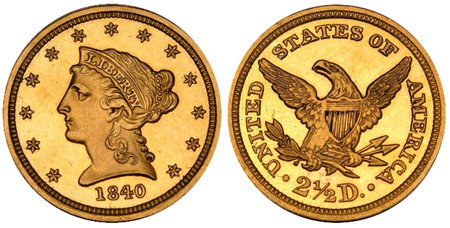 The design for the Liberty Quarter Eagle was created by Christian Gobrecht. He had worked for the United States Mint since the mid-1820's, become the Assistant Engraver in 1835, and eventually Chief Engraver in 1840. His design for the quarter eagle had previously been introduced on the two larger gold denominations. The design first appeared on the eagle in 1838, followed by the half eagle in 1839.
The obverse features the head of Liberty, facing left. She wears a coronet inscribed LIBERTY and her hair is tied in a knot. Completing the design are thirteen stars placed evenly around the image and the date positioned below the truncation of the neck.
The reverse design features a bald eagle, with roughly the same appearance as the previous type. The eagle has a shield at its breast and its talons grasp an olive branch and three arrows. The inscription UNITED STATES OF AMERICA is around, and the denomination 2 1/2 D. appears below. Two large dots separate the denomination from the rest of the lettering. Compared to the previous type, the eagle and lettering are larger in size, leaving less open space in the fields.
Unlike the larger gold denominations that employed the same design, the Liberty Quarter Eagle did not see the addition of the motto IN GOD WE TRUST following the Civil War. The only alteration to the design during its lengthy run would occur in 1859 when a new reverse hub was adopted featuring smaller lettering and arrowheads. During 1859, 1860, and 1861, quarter eagles may be encountered with either the old or new reverse. The old reverse is always the less available of the two, and those struck with the old reverse in 1860 and 1861 are quite scarce, especially in high grades.